---
If you haven't heard, the Experts Live Conference is coming to Texas in 2018!
The conference will be held at Woodlands Waterway Marriott Hotel & Convention Center, located in The Woodlands, TX, just north of Houston!
Experts Live is primarily a technical conference, with deep dive technical topics broad range of Microsoft technologies including Azure, System Center, OMS, Automation, Virtualization (Azure Stack, Docker), EMS and Office 365, and more..
I am proud to annouce that I will also be speaking at this conference!
I will be speaking on the following Topics:
I'm very excited to be escaping the Wisconsin Weather to head down Texas for a few days for some great food, friends, learning new friend, and the great opportunity to present!
---
Read Post
Share:
Twitter
---
I've published my first Amazon Alexa Skill!
You can find my free skill: IT Service Management Facts on the official Amazon Alexa Skill Store.
It's a very simple skill, written in NodeJS. It has an embedded list of ~550 or so terms / definitions that have been harvested over the years relating to IT Service Management. Simply ask Alexa to: "open ITSM Facts" to get a random fact. When you interact with the skill, an Amazon AWS Lambda function is triggered to retrieve an ITSM fact.
Now… I know what you are thinking, this isn't the most practical or interesting app in the world… but I published this skill as I was mostly interested in expanding my Alexa Skill development to include visual elements.
I actually have some items for a V2 of this skill that would allow voice interaction (Term lookup, quiz mode, etc.) and I even have an Amazon Echo Show on preorder, but for now, enjoy playing around with the IT Service Management Facts skill.
---
Read Post
Share:
Twitter
---
A few weeks ago, I deployed a number of PowerShell Azure Functions for a very large customer. These functions were very simple and basically filled a gap to manage and schedule Azure Automation Runbooks. Azure Automation is a good product but it has some large gaps in its management and scheduling capabilities that we've filled with Azure PowerShell Functions.
Specifically, we have PowerShell Azure Functions to use the AzureRM PowerShell CMDlets to login to the Azure Subscription for the purpose of executing to evaluating Azure Automation jobs on Hybrid Runbook Workers.
After a few weeks, we had some major issues come up, that I believe are now resolved. Based on my experiences I have compiled MY Top 3 considerations for using Azure PowerShell in Azure Functions.
Please note that this post applies to LATE MAY 2017 - Everything is subject to change with new releases of the product!
---
Read Post
Share:
Twitter
---
I am very happy to announce that I have been once again invited back to one of my favorite conferences of the year! In a few short months, I will be back in Berlin this year for Experts Live Europe August 23rd-25th!
Experts Live Europe, previously named "System Center Universe Europe" is once again at the Berlin Congress Center right off the Alexanderplatz in Berlin, Germany.
I will be speaking on the following Topics:
I'm very excited to be back in Europe for 2017 with a fresh set of cutting edge topics and demos!

Photo Courtesy Marcel Zehner
---
Read Post
Share:
Twitter
---
Over the past week, I have been speaking at the Midwest Management Summit 2017 Conference, in the Mall of America in Minneapolis, Minnesota. This conference has a reputation for being an Excellent Conference and this year certainly lived up to those standards!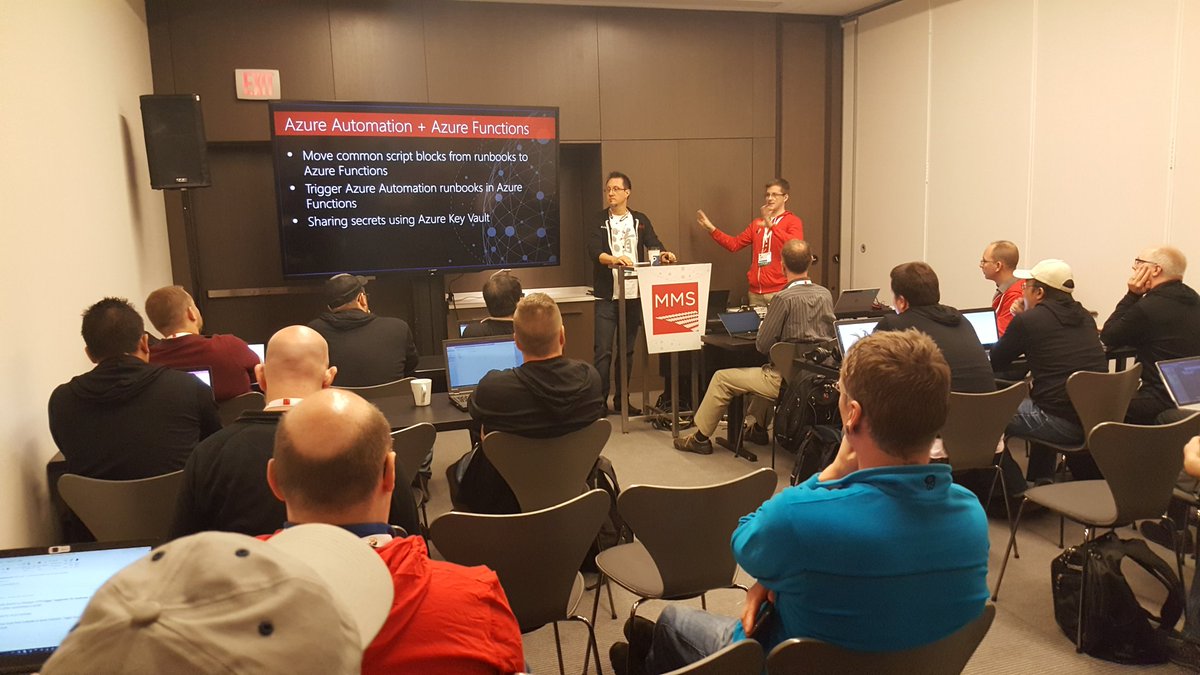 At this years MMS, I was on-stage for 6 Sessions, 1 Usergroup Presentation, and helped produce and participated in about a dozen Podcasts/Videos. I also attended some fantastic sessions, the speaker selection this year was a bit more selective so I was happy to be selected again and have a number of my sessions come into the "Top 10" highest rated sessions. As always catching up with all the great folks I am happy to call my friends was as always a highlight of the week!
In this post, I will include links to the code and an outline of my activities at the conference this year. This year was a not-stop barrage of activity that I feel I am still recovering from but it was all worth it and hope to participate again next year!
---