---
I am very happy to announce that I have been once again invited back to one of my favorite conferences of the year! In a few short months, I will be back in Berlin this year for Experts Live Europe August 23rd-25th!
Experts Live Europe, previously named "System Center Universe Europe" is once again at the Berlin Congress Center right off the Alexanderplatz in Berlin, Germany.
I will be speaking on the following Topics:
I'm very excited to be back in Europe for 2017 with a fresh set of cutting edge topics and demos!

Photo Courtesy Marcel Zehner
---
Read Post
Share:
Twitter
---
Over the past week, I have been speaking at the Midwest Management Summit 2017 Conference, in the Mall of America in Minneapolis, Minnesota. This conference has a reputation for being an Excellent Conference and this year certainly lived up to those standards!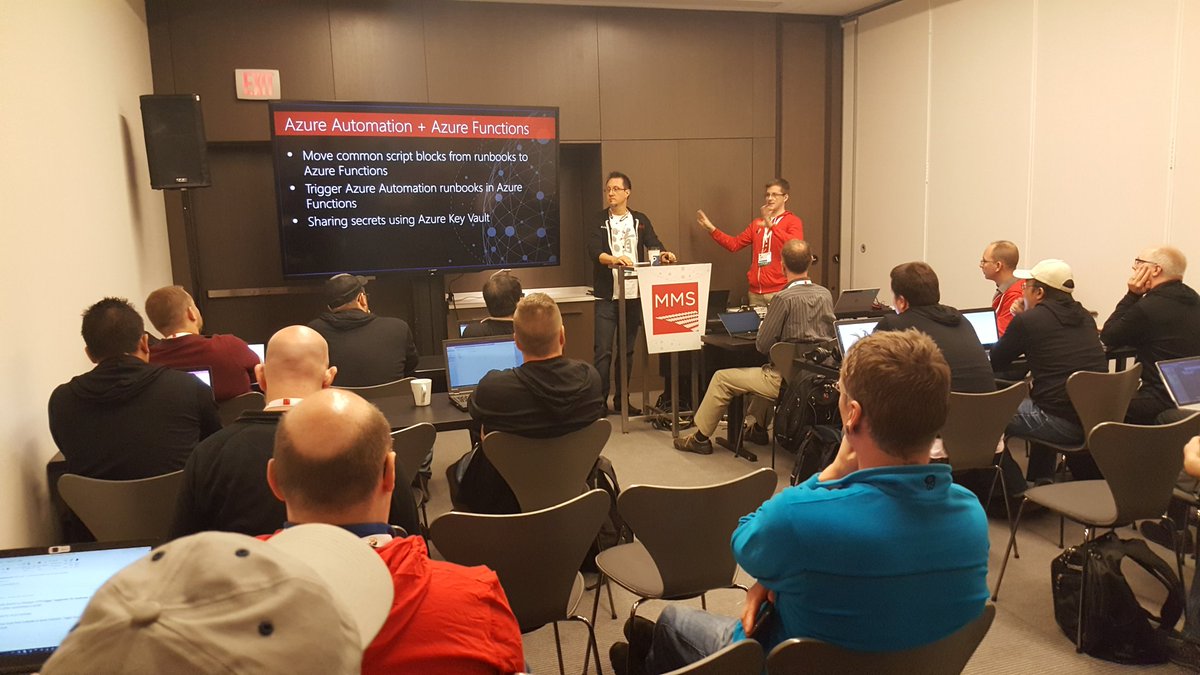 At this years MMS, I was on-stage for 6 Sessions, 1 Usergroup Presentation, and helped produce and participated in about a dozen Podcasts/Videos. I also attended some fantastic sessions, the speaker selection this year was a bit more selective so I was happy to be selected again and have a number of my sessions come into the "Top 10" highest rated sessions. As always catching up with all the great folks I am happy to call my friends was as always a highlight of the week!
In this post, I will include links to the code and an outline of my activities at the conference this year. This year was a not-stop barrage of activity that I feel I am still recovering from but it was all worth it and hope to participate again next year!
---
Read Post
Share:
Twitter
---
Azure Functions is a great solution for building cloud-based "serverless" functions that run small and effiecient pieces of code to fill a wide array of automation / develpoment tasks. Right now, one of the biggest asks from my customers are ways to efficiently maintain, monitor, and manage their Azure Functions… Application Insights is a great tool that fits this purpose. Recently, new preview features relating to Azure Function and Application Insights Integration have been released as a public preview. This solution is extremely promising and useful even in it's preview state!
We can also take a "build-it-yourself" route to monitor Azure Functions with Application Insights.
I wanted to write a post quickly summarizing some options available to monitor Azure Functions utilizing Application Insights. There are a good deal of Wikis, Github Repos, and Documents coming out on the subject but I wanted to summarize my findings (as of MAY 2017) in an actual blog post to help out others looking for a solution.
Before we get started… you might have noticed I mention Operations Management Suite "OMS" in the title of this blog post, well, not much to say here other than the fact that it is very easy to pull our Application Insights data into OMS, but more on that later…
---
Read Post
Share:
Twitter
---
WordPress, it's not you… it's me…
I have been running my blog on a dedicated webhost with WordPress for sometime now… lately I have struggled to keep up with blogging and maintaining my site.
My yearly renewal for my web host recently came up, and for some reason, over the years my price went from ~$90 (per year) to a new high of about $220. This was the final straw for me as I really was not a frequent blogger and for me… Wordpress just became a pain to use and maintain…
I am happy to announce, I am fully migrated to Jekyll on GitHub Pages - I'm already very happy with the move and am actually excited to get back into blogging.
Read more about GitHub Pages and Jekyll in this post
---
Read Post
Share:
Twitter
---
In the last few months I have had to rebuild my desktop / laptop computers a number of times. This exercise has had me going through the motions of reinstalling all of my favorite applications time and time again.
We have many very easy to use tools to streamline the process, such as Chocolatey, Ninite, or NPM but often times I have felt the need to simply keep a running tally of all the various applications that I need to use regular basis or simply cannot live without.
Simple Solution - CREATE A GIST! Below is My GIST of all the various applications I install on my personal Windows workstations. It's should come in handy for future personal reference, and I hope keeping a GIST of personal applications cathches on, as I would be very interested to see all the various applications other smart folks on GitHub use.
GIST Below:
---